Tuesday ~ April 10
Talk, Food, Wine* Free!
Guest speaker:
​Sr. Lois Mary Paciello, CSJ Topic: Divine Mercy
2nd Tuesday of every month
6:30 pm to 8:00 pm
Mohawk Valley Winery > 706 Varick Street (Utica)
Conversations for the believers, the curious and the skeptics.
Adults 40+
No commitment necessary
Questions/Contact: Deborah Sullivan (315) 735-4429 x4
(*First Glass of Wine Free)
Sponsored by The Diocese of Syracuse McDevitt Evangelization Grant
awarded to SJSP


---

Catch the Wild Goose!

10th Session of The Wild Goose Series resumes
the weekend of April 14/15:
The Spirit of Adoption

The Wild Goose Series Link
is on our SJSP web!
Or View The Wild Goose online or on EWTN television.
(Links on our Home Page)

Guess what??
​EWTN is now ON DEMAND!
Fast. Easy. Free.
Access thousands of EWTN Programs and Specials.
No memberships or Fees. Anywhere. Anytime.




---

2018 April Diocesan
"Road Show"
7:00 - 9:00 pm

The focus for the 2017-2018 Road Show is what each diocesan office offers by way of training, initial and ongoing formation/education, opportunities for certification and advanced study and the financial resources and assistance that is available.
All parishioners are invited to participate. Choose the date/place that is best for you. Pre-registration requested.
Don't miss it!

Monday, April 9
Pope John XXIII, Liverpool
Wednesday, April 11
St. Vincent de Paul/Blessed Sacrament, Vestal
Thursday, April 12
St. John the Evangelist,
New Hartford

Presenters
Catholic Schools-
Bill Crist/Barbara Messina
Evangelization-
Mary Hallman
Formation for Ministry-
Eileen Ziobrowski
Parish Services-
Tom O'Connor

The April 2018 Road Show will focus on what diocesan offices offer to "equip missionary disciples" by way of training, initial and ongoing education/formation, leadership development and opportunities for certification and advanced study. Information will be shared about processes, programs and resources that are currently available to prepare persons who are called to serve one another in response to the Gospel.
The "Road Show" is a collaborative effort coordinated by the Office of Pastoral Leadership. Pre-registration is requested.

The overall theme for the 2017-2018 Road Show is "Equipping Missionary Disciples."
During the April, 2018 Road Show you will discover what is available and accessible through the Catholic Schools Office (Bill Crist/Barbara Messina), the Offices of Evangelization (Mary Hallman), Formation for Ministry (Eileen Ziobrowski) and Parish Services (Tom O'Connor).

Tuesday, April 17
Time/Place: 6:30 pm
SJSP Rectory
Feature: Oceans of Mercy
​Synopsis: Three 20th Century voices: Sister Faustina , Maximillan Kolbe and St. John Paul, II urge humanity to embrace the message of mercy. Journey through the lives of these three heroes as they struggle to spread this message to the world. (65 minutes)
Admission/Refreshments:
​FREE

Coming Attactions:
May 15:
I am Not Ashamed
June 19:
​St. Anthony


---

Healing Mass at SJSP!
First Tuesday of every month
Healing Mass
for the
Unity of Family
5:30 pm Mass in SJSP Church followed by music, prayer
with Mary the Mother
of God as our intercessory
for family healing led
​ by Rev. Anthony LaFache


Your Perpetual Adoration Invitation
Please join me…
I wish to give you relief
from a busy day.
I wish to give you peace.
I wish to give you warm hugs
if you are in grief in anyway.
Thank you for
your time with me;
I promise to give you
so much more.
Please join me.

Rose Roberts can offer
you time with me
at (315) 507-1305
SJSP Perpetual
Adoration Chapel
25 years going strong
702 Columbia Street
Utica, NY

---

Traveling Rosary for Peace
Rosary was purchased & blessed at the
Blue Army Shrine.
Program: Rosary is available in our Mother Marianne Book Shoppe at 7:30 am Masses to borrow by the week in prayer for peace.
Please contact Sandra Maher at (315) 717-5005
if you are interested in participating in this beautiful mission encouraged
by Blessed Mary herself.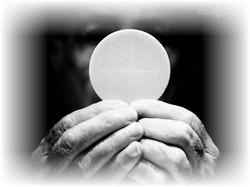 NEED THE EUCHARIST?
If you or someone you know is Hospitalized, in a Nursing Home, or Homebound and wish to receive the Eucharist and is a member of this parish please contact Maureen Mayer (315) 734-0504 . We are also in need of Eucharistic Ministers for the sick & homebound.
​If you are a EM, please do not forget to sign log book in Church sacristy of dates of visits. Thank you for your help in this beautiful mission.


---
---