St. Marianne Cope Home Garden Shrine Dedication October 22, 2017
620 Schuyler Street Utica, NY
St. Joseph & St. Patrick Church would like to thank all involved for helping make
​the vision of a peaceful garden in honor of St. Marianne a reality.


​The memoriam plaques will always be offered with donations of $100.00 or more going towards landscaping and upkeep of the grounds. Please place donations in the collection basket or mail to the rectory office w/attention to Deborah Sullivan. Please state "in memory" or "in honor" of with name to be acknowledged on a garden plaque.


---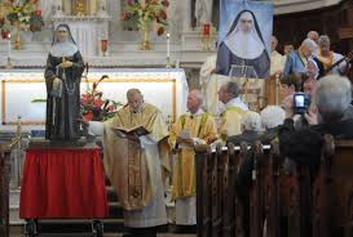 Forever present in our Parish and on our grounds.
Thank you St. Marianne for your example of love
for ALL which is God's message in itself.
---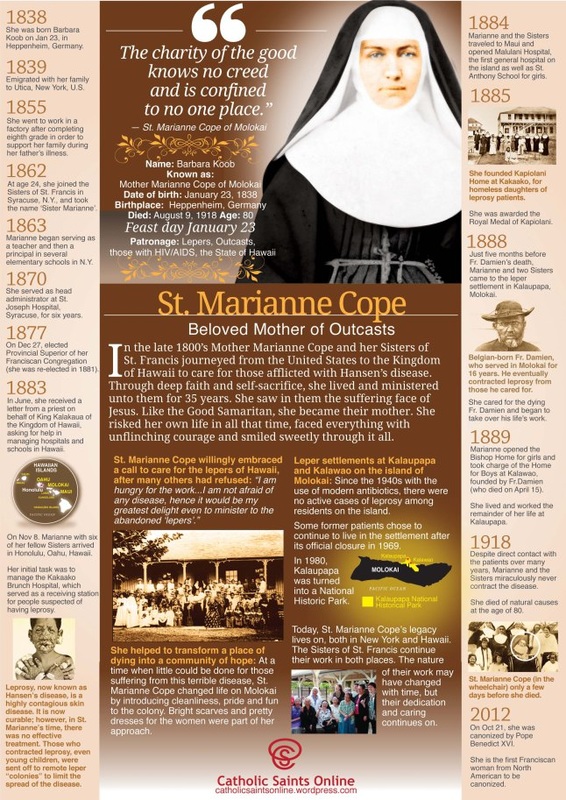 Home Parish of
Saint Marianne Cope
St. Marianne's Journey by Mary Breslow
Barbara Koop was born in Germany on January 23, 1838. Her family moved to Utica, in 1840, living for a year on Varick Street and then moving to Schuyler Street. When Barbara (now Cope instead of Koop) finished at St. Joseph's School, she went to work in a factory. She lived at home and helped her mother, especially with the care of her brother who died at age twenty and then her ailing father.

In 1860, while twenty-two year old Barbara was still working in a factory, four Sisters of the newly founded Third Order of St. Francis arrived in Utica, from Philadelphia, to teach at St. Joseph's Parish School. This was an important event for Barbara, who had felt a strong calling to the religious life since about the age of fifteen.

When Barbara's father died in 1862, her mother gave her blessing and Barbara entered the convent in Syracuse, as Sister Mary Anna - her name changing over the years to Marianne. After a wait of nine years to enter the religious life, God's preparation of Sister Marianne was recognized by Mother Bernadina Dorn, resulting in rapid appointments to leadership positions in the religious community and in both parish schools and at St. Joseph's Hospital.

She was a member of their governing council when St. Elizabeth's Hospital was established by Mother
Bernadina in 1866. Three years later, St. Joseph's Hospital in Syracuse was opened by the Franciscan Sisters. As supervisor and administrator of St. Joseph's, Mother Marianne was responsible for the medical school moving from Geneva, NY, to Syracuse, where the medical students received their clinical training at St. Joseph's Hospital.

During her time at St. Joseph's Hospital, Mother Marianne learned nursing and developed an interest in the limited preparations of medicine the doctors were using at the time. This knowledge was very useful to her in Hawaii, where she was considered a "professional druggist."

In June of 1883, when Mother Marianne was 45 years of age, she received a letter from a priest from Hawaii, who had been sent to the United States to find 'Sisters of Charity' who would be willing to go there to care for lepers. Mother Marianne answered, "My interest is awakened and I feel an irresistible force drawing me to follow this call." Permission was given for Mother Marianne to establish a Franciscan presence in Hawaii, but she herself was to return to Syracuse, when that was successfully done.

In November of 1883, after five months of negotiations, there was still no final written agreement between Syracuse and the Calvinist government of Hawaii. However, Mother Marianne was hopeful and she chose six of the thirty-five sisters who had volunteered to go with her. It is interesting that from the Franciscan community of German origin, none chosen were of German ancestry - five were Irish and one was Dutch.

After a six day train ride from New York City to San Francisco, Mother Marianne and the other six sisters boarded a steamship for the seven day voyage to Hawaii. Mother Marianne spent the entire time in her cabin, suffering from a sea sickness that would plague her for the rest of her life whenever she traveled between the islands of Hawaii.

In his greeting when the sisters arrived in Honolulu, Bishop Hermann warned, "Do not look for praise or
gratitude because you will have much to suffer and many crosses." The suffering and crosses were not to come from caring for the lepers but were from many years of struggle in dealing with the civil government, the royalty, and church officials.

Mother Marianne and her fellow sisters spent their first five years in Hawaii caring for the lepers at the Branch Hospital in Kakaako – a commercial section on the waterfront of Honolulu. This hospital had been built two years earlier as a receiving station for those suspected of having leprosy. To prevent the fifteen years of mistakes that had been made since opening the settlement on Molokai, only those with a definite diagnosis would then be sent to permanent isolation from families and society.

Mother Marianne's and the sisters' first visit to the Kakaako hospital in Honolulu, revealed hellish conditions that appeared to have been acceptable because these were 'just lepers.' The contrast with the clean, bright, and cheerful rooms at their St. Joseph's Hospital in Syracuse was unimaginable.

• The kitchen and the dining room tables were covered with filth and swarms of flies.
• In the wards, the patients were on the floor on straw mattresses covered with bedbugs.
• There were no separate wards for men, women, adolescents, and young children.

The sisters were shown another building with three rooms. The first was where dying patients were abandoned – without food, water, or care. The second room was where the dead patients were examined by doctors. And the third room was where they were put until being taken away by cart to be buried.

The sight and stench of human beings with mutilated bodies and faces, blinded eyes, open sores that were not washed or covered – all of these filled the sisters not with dread but with pity and told them that they were at a place where they could do good.

The sisters' day began at 4:30 AM when they awoke in the dark of night, washed and dressed by candlelight. Prayers were said in their chapel until the arrival at 6:15 AM, of a priest to say Mass for them. After an eighteen hour work day, they retired to their small cells for a few hours of sleep.

No actual written agreement had ever been drawn up before the sisters left Syracuse. Mother Marianne had relied upon the verbal assurance that she would be given 'full charge' of the hospitals in which the Franciscan sisters would work.

Now seeing conditions as they were, Mother Marianne sought formal agreement before she and the sisters would begin their work.

• "We beg, for our security and protection a written and duly signed agreement in which we wish to have plainly stated what the government may expect of us…
• "We would wish to know exactly the extent of our authority in the institutions of which we are to take charge…
• "We are as yet strangers here … but at one glance we can see much that must be changed, hence we expect to have the authority to establish such regulations as we shall think proper or rather deem necessary…
• We most urgently beg [you] to make arrangements without delay to separate the sexes."

As described in last week's "Minute," Mother Marianne sought formal agreement before she and the sisters would begin their work.

An immediate answer to her letter was indeed disappointing – "… when you were invited to come to the rescue of the sick poor of this Kingdom, the nature of your position or authority in relation to the sanitary care of sufferers was not then considered."

This is a remarkable statement meant to convey that the sisters were to be nurses only, to take care of the sick, and that the administration of the hospital was 'man's work.' Unfortunately, the wrong man was the superintendent.

Mr. Henry Van Giesen was brutal to the lepers, even to his own wife when leprosy damaged her body and deprived her of her beauty. Mother Marianne was not deterred. She and five of the sisters cleaned the entire compound from one end to the other. The sisters tackled the cleaning of the hospital, scrubbing away three years of accumulated filth.

The sixth sister was assigned to stay in the convent as housekeeper and cook. This was because of the popular belief among the physicians that leprosy was spread through the mouth in food and drink. Mother never allowed her sisters to eat food prepared by lepers.

Mother Marianne also advised her sisters to be 'prudent' and to follow careful hand-washing and to wear work aprons over their robes. Remember her promise that no sisters of her order would ever contract leprosy.

In the patient wards of the Kakaako Hospital in Honolulu, the sisters threw away filthy rags, mats, and blankets. They then turned to the matter of dressing the patients' sores. The hospital's director and physician would not touch a person with leprosy and only examined them rarely and from a distance. The sisters may have been leery but did not hesitate to wash the sores – cleaning away the pus, maggots and rotted flesh – and applying clean dressings. The patients were now living in clean quarters and, immediately after changes of their dressings, were free for a time from the stench of their sores.

Just two months after Mother Marianne and the sisters arrived in Hawaii, another request was made by the Board of Health and the bishop of Hawaii. A new hospital was to open on the island of Maui and nurses were needed to care for general population patients – no patients with leprosy in this hospital. It would mean that the seven Franciscan sisters from Syracuse, would be responsible for the care of patients in two hospitals – on two different islands – when they were already at the point of exhaustion from caring for the people with leprosy at Kakaako.

Political pressure from the government and from the bishop – who worried about the Calvinists and
Episcopalians taking over – forced Mother Marianne to agree. She accompanied two sisters to Maui to help them open the new hospital, leaving behind at Kakaako one sister to run the convent and three sisters to care for the patients.

Upon arrival at Maui, Mother Marianne was informed that one of her two sisters would be needed to run the school and the other would run the hospital. Mother Marianne was busy assisting in setting up the new hospital when she received word from two sources that she needed to return to Honolulu.
• First, the king, for his own political reasons, wanted her to pay a visit to the settlement for people with leprosy on Molokai. [That visit was not to happen for another three years.]
• And, the sisters and patients at the Kakaako Hospital were in danger due to rising tensions between them and the vicious Superintendent Van Griesen. The response from the patients to his brutality was violence and a dangerous hatred that threatened the safety of the sisters and the superintendent. This time Mother Marianne wrote to the bishop asking him to intervene. His pleas to the government were unsuccessful.

When Mother Marianne returned to Kakaako, she immediately demanded a meeting with the head of the Board of Health and the bishop. She informed them of conditions that must be met if she and the sisters were to stay in Hawaii – there was to be no compromise.
• The sisters were to be put in complete charge of the hospital, as they had been promised before they left Syracuse, and,
• Mr. Van Griesen was to leave the hospital immediately and have no further connection with them.

Mother's conditions were met but her work at Kakaako increased when she sent another sister to Maui to help in the hospital and one sister at Kakaako became ill, staying in the convent for the rest of the year. Mother Marianne and one other sister alone cared for the two hundred patients, in addition to the administrative work that was now Mother Marianne's responsibility.

In early 1885, Mother Marianne knew that the time had come to resolve the issue of her returning to Syracuse, as she was required to do - or was it God's will that she stay and continue the work to which He had called her?

She wrote to Father Lesen, the Provincial Minister, enclosing a letter written by the President of the Board of Health to Mother Marianne. "I would regard your leaving us as a great misfortune to the suffering people of this country, therefore, I pray that you remain to continue in charge of your Mission of Mercy in these Islands."

In addition, the bishop in Honolulu wrote to Father Lesen, "… that we consider the presence of Mother Marianne quite necessary for the success of your [Franciscan] colony in Hawaii."

With such pressure from the government and the Church, permission was granted by Father Lesen. "I bid [you] then to remain longer and to attend with renewed courage to your work. God will accept and bless your sacrifice."

Mother Marianne and the other Franciscan sisters were the first members of a religious community founded in the United States – Philadelphia – to start mission work in a foreign land [the Royal Kingdom of Hawaii.]

In the spring of 1885, four additional Franciscan sisters were sent from Syracuse, to Mother Marianne. With the arrival of the sisters, Mother Marianne was able to turn her full attention to the healthy children, whose parents were confined at Kakaako in Honolulu and at Kalaupapa on the island of Molokai because of leprosy.

The children, both healthy and those with leprosy, were running wild – undisciplined and unclean. They were without morals, stealing and begging food, preying on the adult patients. As they grew older, they were preyed upon themselves by older boys and the men. They were unsafe and unschooled.

Advised by a doctor that healthy children would not contract leprosy if they were cared for by "well people," Mother Marianne believed that a home could be built in Honolulu for the healthy girls and the sisters could help a matron care for them.

Mother Marianne prevailed upon the government and the queen, and in November 1885, the Kapiolani Home for Girls, the Offspring of Leper Parents, was opened – named for the queen herself. It had been built near the sisters' convent and apart from the hospital area. A willing matron could not be found in Hawaii to care for the girls so the home became another ministry for the sisters.

Mother Marianne met Father Damien for the first time in January 1884, when in apparent good health, he came to Oahu to attend the opening and dedication of a chapel at the Kakaako hospital she was to administer. Only a year later, in 1885, Father Damien was diagnosed with leprosy.

In 1886, a doctor from Japan came to the hospital at Kakaako whose specialty was the 'Goto treatment' for leprosy. This consisted of daily hot medicated baths and oral medications. For almost a year, Father Damien pleaded with civil and religious authorities to be allowed to go to Honolulu in hopes that the treatment would help him and his people on Molokai.

Mother Marianne said to government officials, "Send him here. We will take care of him. He has suffered more than anyone can imagine." His disease was quite advanced, with marked distortions of his facial features. Mother Marianne and another sister prepared rooms for him – an oratory where he could say his daily Mass and a pleasant and comfortable bedroom.

During his brief stay at Kakaako, Mother Marianne and Father Damien had many conversations and plans were made for Sisters of St. Francis to go to Molokai to continue Damien's work. However, it would be over two years before permission was granted by church and government officials. Father Damien would die just five months after the Sisters finally arrived at Kalaupapa, Molokai.

In 1887, the "Bloodless Revolution" forced the resignation of the king of Hawaii. The Reform Government made a decision to identify all cases of leprosy and to isolate them at the Settlement on Molokai.
This meant that new cases would no longer be sent to the Kakaako Hospital run by Mother Marianne and the sisters.

With Father Damien near death from leprosy, Mother Marianne and the sisters would at last be allowed to live and work in the settlement of Kalaupapa. It was located two and a half miles across the peninsula of Molokai from Father Damien's settlement of Kalawao.

The sisters would be in charge of a new settlement called Bishop Home, consisting of a convent for the sisters and four cottages for the women and girls. It was named for the benefactor, Charles Bishop, a wealthy banker in Honolulu and a native of Glens Falls, New York.

In September 1888, Mother Marianne made her first visit – a mere three hours allowed her - to Kalaupapa to see for herself the conditions that faced her and the sisters who would accompany her.
From the landing at Kalaupapa, she traveled the distance to Kalawao to see Father Damien and to visit his home for the boys in his settlement. "… Mother could see how sorely in need the poor children were of Mother's cair (care)…"

Now that Mother Marianne's wish to care for the women and children at Kalaupapa, Molokai, was to be realized, she needed Sisters who would go with her, mindful that she still needed Sisters to staff the hospital at Kakaako and the hospital and school at Wailuku on the island of Maui.

Some of the Sisters expressed fear and reservations about going to Molokai, but relied on their faith in God.

"I am afraid… but I trust in the good Lord... So God's will be done."
"I leave myself in your hands if you send me I know it will be God's will… What strength God has given me, I wish to use only in the plan and in the way He wants."
"I am ready to go with God's grace whenever you call me."

In a letter to Mother Bernadina in Syracuse, Mother Marianne wrote, "We all came [to Hawaii] with a will to do good, and to work for God's honor and glory, which is sometimes hard. Pray for us please."

Mother Marianne had worked tirelessly at the Kakaako Hospital for five years despite being ill herself most of that time, probably with chronic pulmonary tuberculosis, as evidenced later in her life. Other explanations include severe physical exhaustion and malnutrition.

Sister Leopoldina described the day of departure from Honolulu: It "…was indeed a very sad day Mother was so sick she could not walk without staggering… as she tried to come down stairs she caught on to the railing and sat on the top step while her face went deathly pale…In a few minutes she stood up and staggered back to her room, and when she came from her room again she seemed a little better."

Finally, after five years in Hawaii, on November 13, 1888, Mother Marianne left Honolulu for Kalaupapa, Molokai, with only two sisters – Sister Leopoldina Burns and Sister Vincentia McCormick – to live among one thousand people with leprosy. She took only two sisters - both cheerful and healthy - with her to see how they would adjust to the loneliness, the isolation, and the life at Kalaupapa. She left five sisters at Kakaako to care for about one hundred patients at the hospital and a handful of girls at the Kapiolani Home for Girls.

In the meantime, Mother Marianne would limit her mission at Kalaupapa to caring for the residents of the Bishop Home for Unprotected Leper Girls and Women as requested by the Board
of Health. She knew that other duties would likely be added later with the death of Father Damien.
by meb



---
Mother Marianne's Way Street Festival